November 1, 2007
Welcome to November! A month of change? It usually is for this region. Colder and stormier weather is usually the norm. The KPAH Region usually will see one or two severe weather events during the transition from fall to winter. I guess we will see how this year turns out. We already experienced one outbreak last month. A record number of tornadoes struck the Paducah forecast area. Hopefully we will not witness anything quite that intense during the next 30 days.
Tropical Storm Noel has turned to the north/northeast over the last 12 hours. The storm is currently located north of Cuba. The National Hurricane Center has issued the following advisories:
HURRICANE WATCH REMAINS IN EFFECT FOR THE NORTHWESTERN BAHAMAS.
A TROPICAL STORM WARNING REMAINS IN EFFECT FOR THE CENTRAL AND
NORTHWESTERN BAHAMAS.

A TROPICAL STORM WARNING REMAINS IN EFFECT FOR THE SOUTHEASTERN
FLORIDA COAST FROM NORTH OF OCEAN REEF TO DEERFIELD BEACH. THIS
WARNING WILL LIKELY BE DISCONTINUED THIS AFTERNOON.


NATIONAL HURRICANE CENTER TRACK FORECAST
The tropical storm has killed more than 100 people in the Caribbean. Mainly from severe flooding and mudslides. This makes Noel the deadliest storm of the 2007 Atlantic Hurricane Season.
This system could impact portions of the Northeast United States over the coming weekend. Strong winds and coastal erosion could be a problem. Stay tuned.
November 2, 2007
Hurricane Noel is brushing the Southeast Coast of Florida. Maximum sustained winds have increased to 80 miles per hour. The system is losing tropical characteristics and will become extra-tropical. Noel will likely bring some gusty winds and high surf to the Eastern United States over the next couple of days. Portions of the Northeast United States could see damaging winds and potential flooding from the high surf.
Noel has killed more than 100 people over the last few days in the Caribbean. This makes Noel the deadliest hurricane of the 2007 Atlantic hurricane season.

Hurricane Noel - Friday Morning
HORRENDOUS FLOODING STRIKES MEXICO...
"Worst Natural Disaster Ever Recorded In Mexico" - President
One Million People Homeless...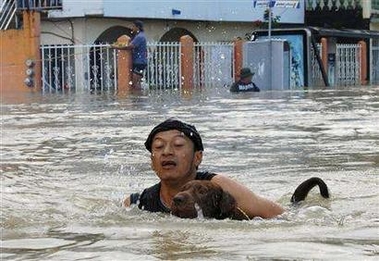 Mexico Flooding...AFP News
From the AFP Newswire...
Rescuers on Friday worked on saving hundreds of thousands of people trapped by the worst floods on record in Mexico's southern state of Tabasco.

Overnight, military troops evacuated the center of the state's capital Villahermosa, while hospital patients in the city of 750,000 were flown to neighboring states as floodwaters continued to rise.

The disastrous floods affected more than one million residents, or about half Tabasco's population.

"New Orleans was small compared to this," said state Governor Andres Granier, in reference to the disaster wrought by Hurricane Katrina in 2005, which killed about 1,000 people in the southern US city alone.

Only one fatality was recorded so far in Tabasco, but the floods have caused widespread devastation.

The oil-rich state the size of Belgium is 80 percent underwater, and 850 towns have been flooded, officials said.

And with more rain forecast over the coming days, there was no respite in sight.

"Of the 2.1 million Tabasquenos, more than half are suffering from this serious problem that has not been experienced in the history of Tabasco," Granier told reporters late Thursday.

"Around 300,000 people are still trapped in their homes in different locations," Granier said, adding that army and navy helicopters and rescue boats were working on rescue efforts.

Tabasco "is devastated," he said of the 29,000 square kilometer (11,000 square mile) state on the shores of the Gulf of Mexico. "100 percent of crops are lost." AFP NEWS
Evening Satellite Images of Noel...
November 3, 2007
Noel continues to move up the coast and has become extra-tropical. The storm should bring heavy rainfall and high winds across much of the coastal regions of the Northeast United States. Winds over 50 mph can be expected along the immediate coastline. Some wind damage is likely due to the leaves still being on the tress.


Pressure Map
November 4, 2007
A stormy day yesterday and overnight across much of the coastal regions of the Middle Atlantic and Northeast. Strong winds buffeted much of the region. Gusts over hurricane force were reported near Cape Cod. Heavy rain also fell over many areas. Portions of Maine received their first heavy snowfall of the season.
Quiet weather continues across much of the Ohio Valley. It does appear that stormier weather is in store for our region over the next 7-14 days. Computer models are hinting at several severe weather threats and even frozen precipitation for portions of the Missouri Valley and Ohio Valley. You will want to stay tuned on this developing weather situation.
November 7, 2007
Calm weather across much of this region. Temperatures have fallen into the 20s this morning and a hard freeze has occurred. Looks like a nice day ahead...beautiful blue skies! The next storm system to impact the region will be on Monday and Tuesday of next week.
November 8, 2007
Another calm day across our region. A chilly morning gave way to a beautiful afternoon. The next storm system is on the horizon though and should bring a chance for rain to the region by Monday and Tuesday. Uncertain on storm chances at this time.
November 10, 2007
Another chilly start to the day across Western Kentucky. Temperatures this morning were in the frosty thirties. A beautiful day is in store for the region. Fall!
November 11, 2007
Scattered thunderstorms across the area this morning. I had thunder at 10:30 a.m. and showers soon after. There will be a chance for showers and thunderstorms over the next couple of days as a storm system passes through the region. No severe weather is expected at this time.
November 14, 2007
In the process of moving so the posts have dwindled over the last few days! I am looking for property with a weather "view" - somewhere here in Western Kentucky! The search continues.
We had scattered heavy showers and thunderstorms across the region this morning and afternoon. A few isolated severe thunderstorms moved through Western Kentucky and Southeast Missouri. No damage was reported. Some small hail was reported though.

CATASTROPHE - BANGLADESH AND INDIA
This is an extremely dangerous cyclone. The storm is headed for an area that can not sustain any type of tropical storm let alone a dangerous cyclone. The potential for GREAT loss of life and damage is high. Similar storms in the past have killed thousands of people.

Kentucky Tornadoes...
EF-1 Tornado Confirmed in Laurel County on November 14th...
A STORM SURVEY TEAM FROM THE NATIONAL WEATHER SERVICE IN JACKSON HAS
DETERMINED AN EF-1 TORNADO WITH WINDS ESTIMATED BETWEEN 94 AND 99
MPH TOUCHED DOWN IN LAUREL COUNTY DURING THE LATE AFTERNOON OF
WEDNESDAY NOVEMBER 14TH 2007.

THE TORNADO TOUCHED DOWN 1.3 MILES EAST OF BERNSTADT AND CONTINUED
EAST PRODUCING INTERMITTENT DAMAGE FOR 2.5 MILES BEFORE DISSIPATING
3.8 MILES EAST OF BERNSTADT. THE TORNADO REACHED A WIDTH OF 200
YARDS SHORTLY BEFORE DISSIPATING. THE TOUCHDOWN TIME OF THE TORNADO
WAS ESTIMATED CLOSE TO 428 PM EST WITH THE TORNADO DISSIPATING
AROUND 433 PM EST.

AT THE TOUCHDOWN SITE A MANUFACTURED HOME WAS SHIFTED OFF ITS
FOUNDATION AND AN OUTBUILDING WAS COLLAPSED. NEAR THE END OF THE
TORNADO PATH THERE WAS DAMAGE TO 3 OUTBUILDINGS AND SOME HOMES. ONE
BARN COLLAPSED...ANOTHER OUTBUILDING WAS THROWN FROM ITS
FOUNDATION...AND A THIRD OUTBUILDING SUFFERED SIGNIFICANT DAMAGE TO
ITS ROOF AND WALLS. A ONE STORY RESIDENCE AT THIS LOCATION LOST SOME
ROOFING MATERIAL...SUSTAINED GUTTER DAMAGE...AND HAD WINDOWS BROKEN
FROM FLYING DEBRIS. A SECOND HOME NEAR THIS LOCATION SUSTAINED
SHINGLE DAMAGE...AND A TREE FELL ON A THIRD HOME. THE TORNADO ALSO
DAMAGED TREES INTERMITTENTLY ALONG ITS ENTIRE PATH...WITH SOME TREES
BEING UPROOTED OR SNAPPED.

SUMMARY...

TORNADO STRENGTH...EF1
TORNADO PATH LENGTH...2.5 MILES
TORNADO PATH WIDTH...200 YARDS
BEGINNING TIME...428 PM EST NOVEMBER 14
ENDING TIME...433 PM EST NOVEMBER 14

Radar image of the tornado storm. Radar Reflectivity Image from 4:29 pm EST

Storm Relative Motion - tornadic cell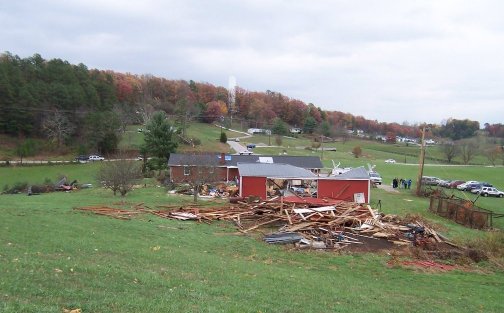 Damage photo provided by the National Weather Service in Jackson, Kentucky.
November 15, 2007
Indian/Bangladesh have been hit hard by Sidr. Early reports are that thousands of homes have been destroyed and the loss of life is feared to be great. It will take a few days for information to flow out of the hardest hit regions.
Snow showers spread across portions of Central and Eastern Kentucky today. Snow was also reported in the mountains of Eastern Tennessee. Several inches of snow was forecast for some of the higher elevations. Snow was even reported in Lexington, Kentucky.
Models are hinting at a major winter storm for Tuesday through Thursday of next week across portions of the Central United States. Everything from heavy snow and ice to severe thunderstorms could impact the region. Stay tuned.
November 16, 2007
A beautiful day across the Tri-State Area. Temperatures this morning fell into the middle 20s. Brrrr. Looks like another cold night ahead of us. Cool weather through the weekend. I am still watching a potential storm system for next week. It could be a white Thanksgiving across portions of the Missouri Valley. Models have not had a good handle on this storm system. We will just have to wait a few more days to see how they trend.
The cyclone that hit India and Bangladesh has killed over a thousand people. The media believes the death toll could go much higher. Perhaps into the tens of thousands of people. Rescue operations continue.
November 18, 2007
Beautiful weather continues across the Paducah area. Temperatures are cool but the sunshine is making up for the chill in the air. It continues to look like we will receive rainfall later this week as a couple of storm systems move across the region. Long term models are showing a number of storms lined up. There are hints that some of the precip could be snow. Time will tell.
November 21, 2007
A stormy day ahead for portions of the Central United States and Southlands. An area of low pressure will wind itself up over Southwest Missouri this morning and push east/northeast through tonight. A mixture of rain, sleet, and snow will be found on the backside of the storm across portions of Iowa, Illinois, Indiana, and Wisconsin. This mixture will push into Michigan and Ontario later today. Heavy snow is possible across portions of Southern Ontario tonight. A swatch of slushy 1-3 inches of snow will be found across portions of Iowa into Michigan. Lake Effect Snow will also be possible over the next 48 hours across portions of Indiana and Michigan. Several inches of snow will likely fall in the heavier bands.
Meanwhile, severe thunderstorms will be possible later today across portions of the Mississippi Valley into the Arklatex region. Isolated tornadoes will certainly be possible, especially across portions of Arkansas, Tennessee, and Mississippi. Persons living in these areas should pay close attention to their local media and NOAA Weather Radio.
November 22, 2007
Severe thunderstorms moved across our region last evening. Hail and high winds caused some damage in Southeast Missouri, Northeast Arkansas, and Western Tennessee. No reports of severe weather were received in Western Kentucky. A few tornado warnings were issued in Missouri, Arkansas, Tennessee, and Mississippi. Still waiting for verification on any touchdowns.
Cold air has filtered into the region this morning. Temperatures fell into the 30s and strong winds have caused wind chills to feel more like winter instead of fall. Looks like another strong storm system will approach the region by Monday. An even stronger storm could strike the region late next week. Severe weather could be a possibility with the second system. Stay tuned.
November 23, 2007
Anyone who doesn't buy into all the global warming hype should visit this site:
http://icecap.us/index.php/go/joes-blog
Some excellent articles concerning why some of the hype might not be true. Well worth reading. There are so many variables involved in short term changes of climate.
November 25, 2007
A slow weather month? Yes and no. It has been fairly active as far as rainfall in this area. Nothing to write home about though! We did have one or two severe weather threats but nothing too serious.
It appears that the next 24-48 hours will be wet and a bit chilly. A low pressure area will move ashore in Louisiana later today and spread moisture northward into the Ohio Valley. If this would be January then we might be talking about some significant snowfall totals. It isn't January though! It appears that some areas across Western Kentucky will pick up an inch or more of rain. Much needed rain.
The long range models appear to be active. Several storm systems should impact our region and perhaps one of those storms might have the potential to produce some snow across portions of the Ohio Valley. Too early to make a call on that subject at this time. Stay tuned!
November 26, 2007
First Snow Chase of the season?
Chances for snow are increasing across the Great Lakes. It appears that there will be a large lake effect snow event next week. If so then I am going to try and do a snow chase. Hopefully this system will pan out. Some early thoughts from the Buffalo, New York, National Weather Service.
AREA FORECAST DISCUSSION
NATIONAL WEATHER SERVICE BUFFALO NY
332 PM EST MON NOV 26 2007
LONG TERM /THURSDAY NIGHT THROUGH MONDAY/...

VERY BUSY LONG TERM PERIOD AS THE PATTERN REMAINS PROGRESSIVE WITH
MODERATE AMPLITUDE THROUGH DAY 6 THEN LEANS TOWARDS MORE SIGNIFICANT
AMPLIFICATION BY DAY 7. TEMPERATURES WILL AVERAGE BELOW NORMAL
THROUGHOUT THE LONG TERM PERIOD.

FIRST CONCERN IN THE LONG TERM IS THE POTENTIAL FOR A SIGNIFICANT
LAKE EFFECT SNOW EVENT THURSDAY NIGHT AND FRIDAY FOLLOWING THE
PASSAGE OF A PACIFIC SHORTWAVE. GFS/ECMWF/GEM AND THEIR RESPECTIVE
ENSEMBLE MEMBERS ALL SUGGEST ENOUGH COLD AIR WILL BE DRAWN DOWN
BEHIND THIS FEATURE TO INITIATE A LAKE RESPONSE. GFS/ECMWF
REASONABLY SIMILAR WITH -10C TO -12C AT 850MB ALONG WITH A CYCLONIC
WESTERLY FLOW THURSDAY NIGHT. ENOUGH CONFIDENCE HERE TO GO WITH
LIKELY POPS EAST OF THE LAKES FOR AREAS FAVORED BY BROAD WESTERLY
FLOW.

PAST SEVERAL OPERATIONAL GFS RUNS...AND MOST OF THE 00Z/26 GEFS
ENSEMBLE MEMBERS BRING A MODERATELY STRONG CLIPPER SHORTWAVE AND LOW
JUST NORTH OF THE GREAT LAKES FRI NGT AND SAT. ECMWF AND GEM ARE
MUCH WEAKER WITH THIS FEATURE. IF THE GFS WERE TO VERIFY...IT WOULD
ALLOW LAKE EFFECT TO SWING NORTH INTO BUF/ART AREAS AS FLOW BACKS TO
THE SW AHEAD OF THE CLIPPER...WHILE THE ECMWF/GEM WOULD JUST KEEP
MORE LIMITED LAKE EFFECT GOING ON WESTERLY FLOW. GIVEN THE HIGH
DEGREE OF UNCERTAINTY...WILL JUST GO CHANCE POPS FOR NOW WITH
SLIGHTLY HIGHER POPS INDICATED E/NE OF THE LAKES. FOR SATURDAY...
WHETHER THERE IS A CLIPPER OR NOT GFS/ECMWF/GEM AND ENSEMBLES ALL
SUGGEST AT LEAST SOME LAKE EFFECT POTENTIAL CONTINUING GIVEN DEGREE
OF COLD AIR IN PLACE OVER THE EASTERN LAKES AND WILL CONTINUE CHANCE
POPS.

MOST GFS ENSEMBLES AND GEM/ECMWF GUIDANCE SHOWS A SURFACE RIDGE OF
HIGH PRESSURE CROSSING THE REGION ON SUNDAY. WHILE IT MAY BE
DIFFICULT GIVEN THE PROGRESSIVE/AMPLIFIED NATURE OF THE PATTERN...WE
MAY SNEAK OUT A DRY DAY ON SUNDAY BEFORE THE NEXT SYSTEM OF CONCERN.
BY EARLY NEXT WEEK TRUE ARCTIC AIR WILL BE BUILDING ACROSS THE
CANADIAN PRAIRIES AND NORTHERN PLAINS. WE OFTEN SEE A BAROCLINIC
WAVE RUN OUT OF THE SOUTHERN PLAINS JUST AHEAD OF AN ARCTIC
OUTBREAK...AND MANY OF THE OPERATIONAL AND ENSEMBLE GUIDANCE MEMBERS
ARE NOW SUGGESTING THIS. THE 00Z/26 GFS AND ECMWF BOTH TOOK THIS
WAVE WEST OF THE APPALACHIANS WITH WARM AIR FLOODING NORTH. THE
MAJORITY OF THE 00Z/26 GEFS ENSEMBLES AND 00Z/26 GEM TOOK A FARTHER
EAST TRACK WITH THE LOW RUNNING UP THE EAST COAST...KEEPING OUR
REGION IN THE COLD AIR. GIVEN THE DEGREE OF COLD AIR ALREADY IN
PLACE ACROSS NEW ENGLAND AHEAD OF THIS SYSTEM...FOR NOW PREFER THE
COASTAL LOW IDEA OF THE GEFS ENSEMBLE MEAN. HAVE THEREFORE KEPT
PRECIP ALL SNOW FOR SUN NGT/MON WITH A CONTINUATION OF COLD TEMPS.
THIS COULD POTENTIALLY BE A SIGNIFICANT SNOW MAKER FOR SOMEWHERE IN
THE NORTHEAST QUARTER OF THE CONUS.

LOOKING FURTHER AHEAD...MODEL GUIDANCE IS IN REASONABLE AGREEMENT IN
THE LONG TERM PATTERN EVOLUTION. GEFS ENSEMBLE 5 DAY RUNNING AVERAGE
500MB HEIGHT ANOMALIES CENTERED ON DEC 7TH SHOWS A MASSIVE POSITIVE
HEIGHT ANOMALY CENTERED NEAR BARROW ALASKA. THE MASSIVE RIDGE
FORECAST TO BUILD ACROSS ALASKA AND BRIDGE THROUGH THE ARCTIC OCEAN
AND ACROSS THE POLE WILL AID IN THE DEVELOPMENT OF SIGNIFICANT CROSS
POLAR FLOW. MEANWHILE A NEGATIVE HEIGHT ANOMALY IS FORECAST TO
DEVELOP ACROSS MUCH OF THE NORTHERN TIER OF THE CONUS AS THE POLAR
VORTEX DROPS SOUTH ACROSS HUDSON BAY. THE LONGWAVE PATTERN IS NEARLY
IDEAL FOR LONG LASTING BELOW NORMAL TEMPERATURES THROUGH THE FIRST
FEW WEEKS OF DECEMBER...AND THE POSITION OF LARGE SCALE FEATURES
SUGGESTS NUMEROUS CLIPPERS DROPPING ACROSS THE GREAT LAKES IN THE
MEAN NW FLOW. THE POTENTIAL FOR MAJOR AND LONG LASTING LAKE EFFECT
SNOW EVENTS SHOULD BE UNDERSTOOD GIVEN SUCH A PATTERN FOR THE FIRST
FEW WEEKS OF DECEMBER.

LONG TERM...HITCHCOCK
So the potential is there for a large event. Potential doesn't make reality though. Will keep watching the pattern and if the system develops as expected then hopefully I will be able to capture some good photographs. This would be my first major lake effect snow event.
November 30, 2007
The long range GFS is showing some extremely cold temperatures for portions of the United States. Looks like December could be a cold month! At least for some areas.

Click for larger image
No decision, as of today, as to when I am heading north. Perhaps next week.
A MAJOR winter storm is developing this evening across the Southwest United States. This winter storm will move towards the Central U.S. over the next 24 hours. Heavy snow, sleet, and freezing rain will spread across much of the above mentioned area. Winter storm watches, warnings, and ice storm warnings have been issued for a large region. Meanwhile, showers and thunderstorms will spread across portions of the Ohio and Mississippi Valleys through the weekend. Locally heavy rain is possible in some areas. No significant severe weather is expected at this time.
Turn the page for more weather
Home | About | News | Upcoming Events| Photo Gallery | Video | Links | Contact
All Photos are copyrighted by Beau Dodson (unless otherwise clearly stated) and are used on this site with his permission. Any use other than authorized by them is against the law. If you wish to contact him regarding use of these photos, please e-mail me and I will forward it.