December 01, 2007
A major winter storm is impacting the Central United States today. Ice storm warnings have been issued from Kansas into Illinois. Winter storm watches and warnings extend from Colorado all the way to New York and into Canada. Heavy icing is likely across much of Iowa and Illinois. Snow is expected in Minnesota and Wisconsin. Significant ice damage is likely from this winter storm.

Ice Storm
Across Western Kentucky we can expect a chance of showers and thunderstorms into Sunday Night. A few locally heavy showers will be possible as the front approaches. Severe weather appears to be unlikely. It is not out of the question for there to be a few isolated reports of wind damage across portions of Missouri and Illinois...mainly from thunderstorms that form near the cold front on Sunday Afternoon.
December 03, 2007
After a stormy Sunday much calmer weather has settled into the region. Heavy rain and thunderstorms raced across the Tri-State Region on Sunday Afternoon. Rainfall amounts of 1/2" to over 1" were reported across the entire region. Some gusty winds accompanied the heavy storms. No warnings were issued in the Paducah forecast area. There were reports of wind damage in South central and East Central Missouri.
Areas to the north continued to clear up from Saturday's Ice Storm. Heavy icing was reported across portions of Nebraska, Iowa, Minnesota, Wisconsin, and Illinois. Power lines and poles were reported down over a number of counties. Heaviest hit areas appeared to be in Iowa where up to 1/2"+ of freezing rain accumulated.
A clipper system will spread light to moderate snow across portions of the Ohio Valley later this week. Some areas will pick up their first measurable snowfall. It appears that our region will miss out, again, on the snow. Perhaps next time!

Snowfall Forecast - 18z NAM
Presentations from August High Plains AMS Conference Now Online

Greensburg Tornado Presentation - don't miss it
December 06, 2007
A winter storm will move across the Missouri and Ohio Valleys later today and into tonight. A light mix of snow, sleet, and freezing rain will spread across the Central and Northern portions of the Paducah Forecast Area. Accumulations of 1-2" are expected. Areas to the south of Paducah should receive a mixture of rain, sleet, and snow. Minor accumulations are possible.
Heavier snow and frozen precipitation will fall across areas to the north of our region. Several inches of snow will be possible by tomorrow morning. BITTER cold air covers much of the Northern United States. Temperatures in the single digits have been common over the last few days.

4 p.m. Weather Radar
December 07, 2007
A mixture of snow, sleet, and rain fell across the region overnight. No significant accumulations were reported.
A major winter storm will move into the Central United States over the upcoming weekend. Heavy ice accumulations are possible across areas from Oklahoma and Kansas into Missouri, Iowa, Illinois, and Wisconsin. Snow and sleet will also be possible in the above mentioned areas into Ontario. Major power outages are possible across a wide swatch of the Missouri Valley and Southern Plains.
Rain...some heavy, will fall across the Tri-State Region of Southern Illinois, Southeast Missouri, and Western Kentucky. Rainfall amounts in excess of 2 inches are possible across the region.
December 09, 2007
A major ice storm is raking portions of Oklahoma, Kansas, Missouri, Iowa, Illinois, Indiana, Wisconsin, and Michigan. Heavy snow, sleet, and freezing rain with strong thunderstorms are impacting a widespread area. Ice accumulations of over 1" have been reported in a number of locations from Oklahoma, Kansas, and Missouri. Accumulations of pure ice of over 1/2" have been reported in Illinois and Indiana. Numerous towns and cities are without power this morning. Widespread tree damage is also being reported. It appears that this prolonged winter storm event will continue into TUESDAY. Some incredible ice accumulations are possible across the Southern Plains and Missouri Valley.
Hail was reported last night in portions of Kansas and Missouri with the freezing rain and thunderstorms. Numerous strong thunderstorms developed in the below freezing temperatures. An extremely dynamic storm system.
PRELIMINARY LOCAL STORM REPORT
NATIONAL WEATHER SERVICE SPRINGFIELD MO
954 AM CST SUN DEC 09 2007

..TIME... ...EVENT... ...CITY LOCATION... ...LAT.LON...
..DATE... ....MAG.... ..COUNTY LOCATION..ST.. ...SOURCE....
..REMARKS..

0941 AM ICE STORM FLEMINGTON 37.80N 93.50W
12/09/2007 POLK MO AMATEUR RADIO

QUARTER INCH OF ICE ACCUMULATION. SEVERAL BROKEN TREE
BRANCHES. PEA TO DIME SIZE HAIL STILL COVERING THE GROUND
FROM PREVIOUS THUNDERSTORM AT 3 AM.
Meanwhile, rain is impacting the Western Kentucky area.
HISTORIC ICE STORM UNDERWAY TONIGHT...
A major ice storm is impacting a large portion of Texas, Oklahoma, Kansas, Missouri, Illinois, Indiana, and into the Lakes. Heavy snow, sleet, and severe ice accumulations are being reported over a wide area. 1-2" of pure ice is likely or has already fallen across portions of Kansas, Oklahoma, and Missouri. SEVERE power line damage and tree damage is being reported. Tens of thousands of people are without power. This is a catastrophic event for portions of the above mentioned states.
December 10, 2007
Incredible icing has been reported across a large portion of the Central United States. This ice storm has been ongoing since early weekend. Some areas of Oklahoma City have been devastated by more than 1.5" of ice. Thousands of trees have been damaged. Power lines and poles have been downed. More than 13 people have been killed so far. This is one of the top ice storms ever for Oklahoma City according to the power company.
Severe winter weather is going to continue through Wednesday across a large portion of Texas, Oklahoma, Kansas, Iowa, Missouri, Illinois, and Wisconsin. State of Emergencies have been declared across a large portion of Oklahoma and Missouri.

Wunderground Photo from someone in Oklahoma City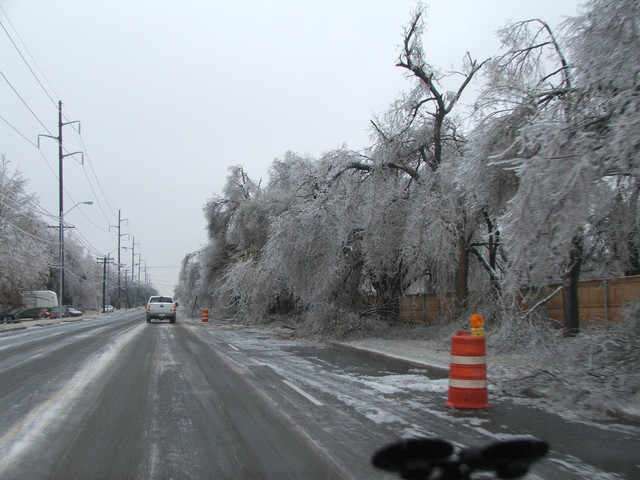 Wunderground Photo from someone in Oklahoma City

Wunderground Photo from someone in Oklahoma City
Heavy rain fell overnight across Western Kentucky. Most areas picked up between 1-3" of rain. The Paducah, National Weather Service Office issued advisories for small streams and urban areas.
On another note, there could be a significant winter storm this weekend across portions of the Ohio and Tennessee Valley. A southerly storm track could spread snow across portions of our region. Still too early to make a call on this potential winter storm. Stay tuned.
And in the tropics today - a December SURPRISE!
  BULLETIN
  SUBTROPICAL STORM OLGA ADVISORY NUMBER   1
NWS TPC/NATIONAL HURRICANE CENTER MIAMI FL   AL172007
1100 PM AST MON DEC 10 2007

...LOW PRESSURE AREA NEAR PUERTO RICO AND THE VIRGIN ISLANDS
DEVELOPS INTO SUBTROPICAL STORM OLGA...
December 11, 2007
Another significant ice storm is moving across portions of the Midwest this morning. Areas from Texas, Oklahoma, Kansas, Nebraska, Missouri, Iowa, Illinois, Wisconsin, and Michigan are experiencing a mixture of wintery precipitation. Hundreds of thousands of people are currently without power from the recent streak of ice storms. It appears additional winter weather will move through the hard hit areas over the next 48 hours.
A strong winter storm is now expected to develop across the Southern United States this coming weekend. This storm could spread snow across the Tri-State Region of Western Kentucky, Southeast Missouri, and Southern Illinois. Currently the models are showing several inches of snow. The storm will then move northeast and rapidly deepen into a Nor-easter. Portions of the Northeast United States could experience a powerful winter storm later this weekend. Stay tuned.
Some newspaper headlines from this morning...Tulsa, Oklahoma and Oklahoma City.
December 13, 2007
Moderate rain fell overnight across this entire region. Most counties in the KPAH Forecast Area picked up 1-3" of rainfall over the past few days. A lot of ponding of water is being experienced. Rivers and streams are nearing bankful. This could become a major concern if additional heavy rain falls this weekend.
All eyes are turning towards the Southwest United States. A MAJOR storm system is developing that will spread heavy snow and rain across the Central United States. At this time I am expecting 1-3 inches of snow across Western Kentucky. Heavier amounts will likely fall across portions of Missouri and Illinois. It is still a bit early to make final calls. A slight change in the path of the storm will make all the difference.
Some models are indicated 10"+ across portions of Missouri and Southern Illinois. This would continue into Indiana and Ohio. This could be a major winter storm for some areas. Travel will likely become hazardous across a large area from the Southern Plains into the Northeast United States.
December 14, 2007
Another day and another snowfall bust for the KPAH Region. We just can't buy snow anymore. It appears that a major winter storm will sweep across the Southern Plains into the Ohio Valley over the next 48 hours. Heavy rain is likely across Western Kentucky. Some flooding will be possible. A light coating of snow may fall behind the surface low on Saturday Night.
Meanwhile, in the hard hit areas of OK/KS/MO/IL - they will be receiving yet another winter storm. Widespread 3-6" snowfall amounts with isolated heavier totals will occur over the next 48 hours.
December 15, 2007
Heavy rains have caused flooding across Western Kentucky this morning. Rainfall totals of 1-2" have been reported with some areas receiving 3". Flooding of roadways and fields have been reported across many counties. All of Western Kentucky is under a flood warning until 4:30 p.m.
Few photos I took from the Mayfield area.
The winter storm will push east and north tonight. Blizzard conditions are expected across portions of Indiana, Michigan, and into Ontario. Environmental Canada is calling for near record snowfall totals across portions of Southern Ontario. Strong winds will cause severe blowing and drifting. Winter is here!
Long range forecast...no end in sight for the winter storm train. Multiple major winter storms are forecast to impact the Midwest and Ohio Valley through the end of the month. One storm in particular next weekend could be particularly strong. Severe thunderstorm outbreak is possible across the Southlands. Heavy rain through our region...heavy snow to our north and west. Stay tuned.


Beautiful image of today's storm
December 16, 2007
A dusting of snow fell overnight in Paducah. Mayfield had some flurries and just a hint of snow on the ground. Southern Illinois received 1-3" of the white gold. Heavy snow continues today across Indiana, Michigan, New York, Ontario and then east/northeast from there. Some areas will pick up more than a foot. Blizzard warnings were issued for portions of Michigan.
December 18, 2007
Another quiet day in store for the Tri-State Region. A much needed break from the recent heavy rains. The next storm system that will impact the region will occur over the upcoming weekend. A deep low will develop over the Southern Plains and move into the Ohio Valley. The exact track of this system is still up for grabs. Current thinking is that the region will experience moderate to heavy rainfall and perhaps some snow on the backside of the storm. A further south track, though, could provide enough cold air for significant snowfall somewhere near the Paducah forecast area.
Another storm during the week of Christmas will provide the next opportunity for rain and snow to the entire region. This appears to be a day after Christmas event. Stay tuned.
December 19, 2007
A chilly morning across Western Kentucky. Nothing out of the ordinary though. It looks like the next significant storm system will pull into the region this weekend. Some precip is expected before that time as well. A weak storm will push through the region on Thursday. Scattered thunderstorms are even possible across the southern portion of the region.
A much larger storm is expected this weekend. Heavier rains are once again possible. Some of the models are also hinting at a snow/rain event for Christmas Day. Way too early to determine if they are valid or not. Ensembles point against the idea We can cross our fingers for some snow!
December 22-23, 2007
A strong storm system will move through the Tri-State Region later this afternoon and tonight. Showers and thunderstorms will develop ahead of the cold front. A few strong storms, with high winds, will be possible. The Storm Prediction Center has placed us in a slight risk for severe weather later today and this evening.
Blizzard conditions are expected across Kansas today. A blizzard warning has been issued for south central Kansas. Heavy thundersnow was reported across Eastern Kansas at 11 a.m. Winter storms conditions are expected from Kansas into Wisconsin. Snowfall amounts of 2-4 inches will be commonplace. High winds will cause severe blowing and drifting snow.
Morning Weather Conditions Ahead of the Storm

WeatherTap Radar at 11:30 a.m.

I taped a winter weather special, earlier this week, for the American Red Cross. You can view it online (for now...temp link).
"Winter Weather Special"
http://tv.westkentucky.kctcs.edu/videoclips/arc/16554_winter_weather/video.shtml
EVENING UPDATE...
A high wind event is underway tonight across the Tri-State Region. A powerful storm system is sweeping across the Missouri and Ohio Valleys. Winds of over 50 mph have been reported at the Paducah, Kentucky, NWS Office. Widespread 45-50 mph wind gusts have been reported across Western Kentucky. Winds have gusted over 60 mph in Illinois. The cause of this high wind event is a strong area of low pressure that is moving through the Chicago area. The pressure reading was near 1001mb as the low passed St Louis. The low then rapidly deepened to 993mb as the low approached Chicago. This is a very sharp drop in pressure. This is causing the high winds.


11 p.m. maps showing the intense storm system.
Sunday Morning Update...
Widespread wind damage has been reported across Michigan, Illinois, Indiana, and Kentucky. Numerous trees and power lines/poles have been reportedly down by winds of over 60 mph. Chicago Midway reported gusts to near 70 mph. A gust of 88 mph was reported on the shoreline of Chicago. Roofs were blown off of homes in parts of Central and Northern Illinois. The pressure gradient map this morning shows the intense area of low pressure over Wisconsin and Michigan. The reading at 10 a.m. was 983 mb.
McCracken County, Kentucky, reported wind damage throughout the county. Trees were downed and at least one home was damaged. Winds gusted between 50-60 mph throughout the county.
PRELIMINARY LOCAL STORM REPORT
NATIONAL WEATHER SERVICE
241 AM CST SUN DEC 23 2007

..TIME... ...EVENT... ...CITY LOCATION... ...LAT.LON...
..DATE... ....MAG.... ..COUNTY LOCATION..ST.. ...SOURCE....
..REMARKS..

1100 PM NON-TSTM WND DMG PADUCAH 37.07N 88.64W
12/22/2007 MCCRACKEN KY EMERGENCY MNGR

TREES AND LIMBS DOWN ACROSS THE COUNTY...INCLUDING TREE
ON HOUSE ON 4TH ST...TREES DOWN ON CLARKLINE RD AND
HARDMONEY RD. MOST DAMAGE OCCURRED BETWEEN 11 PM AND
MIDNIGHT.

Pressure readings in Wisconsin have dipped below 29.90mb. Blizzard conditions are being reported across portions of Wisconsin, Minnesota, and into Canada. Widespread wind gusts over 40 mph are also being recorded. Severe blowing and drifting snow is occurring with this storm system.
Some Wisconsin Obs:
WIZ003>005-009-010-017-018-231700-
NORTH CENTRAL WISCONSIN

CITY SKY/WX TMP DP RH WIND PRES REMARKS
WOODRUFF SNOW 19 16 86 W10 29.04S VSB 1/2 WCI 8
RHINELANDER SNOW 16 12 84 W15G24 29.03R VSB 1/2 WCI 1
EAGLE RIVER MIX PCPN 27 27 100 W8 28.97R VSB 1 WCI 18
LAND O LAKES LGT SNOW 28 28 100 NW5 28.99S WCI 23
PHILLIPS LGT SNOW 10 9 92 W9 29.15S VSB 3/4 WCI -2
TOMAHAWK SNOW 12 9 85 W14G21 29.09S VSB 1/2 WCI -3

Turn the page for more weather
Home | About | News | Upcoming Events| Photo Gallery | Video | Links | Contact
All Photos are copyrighted by Beau Dodson (unless otherwise clearly stated) and are used on this site with his permission. Any use other than authorized by them is against the law. If you wish to contact him regarding use of these photos, please e-mail me and I will forward it.