December 2008
December 01, 2008
Snow is falling across most of the region. Paducah, KY has been reporting light snow and or flurries since 6 am this morning. No accumulation in our region.
Areas to our north received a nice snowfall yesterday. Portions of Illinois and Wisconsin picked up over six inches of the white gold.
It looks like an unsettled week ahead of us. Rain will move back into the region on Wednesday and Wednesday night. This rain will likely change to a brief period of light snow by Thursday morning. No major accumulation is expected at this time.
Very cold temperatures will move back into the region for the second half of the week and it appears that cold weather will continue for the foreseeable future.
December 02, 2008
A chilly morning across South Illinois and West Kentucky. Temperatures fell into the 20s overnight. Paducah, Kentucky had a low of 24 degrees at the National Weather Service Office.
A sunny day is on tap for the region. A nice contrast from the low clouds over the past few days.
The next storm system will already be approaching the region by tomorrow afternoon and evening.
An area of low pressure will move out of Oklahoma and into Arkansas. Although the low will not be deepening (it is more of a wave) it will be enough to produce a band of rain across the Ohio Valley south to the Gulf of Mexico. A few thunderstorms will be possible south of our region.
The 850 mb maps show a nice bulge of warm air surging northward ahead of the cold front as it moves through the Missouri Valley. Models are spitting out rainfall amounts between 0.50"-1.00" across our region.
Temperatures will rapidly fall behind a cold front that moves through our counties on Wednesday night. You can see the thickness map below - showing the rapid drop-off behind the cold front. Whatever moisture is left over will change to snow. No accumulation is expected.


850 mb map - shows the surge of cold air moving into the region on Wednesday night.

700 mb VV shows nice lifting ahead of the front and wave of low pressure - the second map is the forecast for rainfall amounts.




Thickness values show the collapse behind the front - the second map is the forecast surface map

Very cold air pours in behind this storm system. Once again.
December 03, 2008
Well, a strong cold front will approach the region today. It appears that showers and thunderstorms will develop right on top of the region later this afternoon and evening. I am not expecting any severe weather in our counties, some brief heavy rain, though, is not out of the question. Rainfall totals of 0.40"-1.00" will be possible.
Cold air will rush in behind the cold front. A drop of 20+ degrees is expected. Whatever rain is left over will change to light snow. No accumulation is expected.
Evening Update:
Showers and storms are moving into the region (West KY/South IL). Brief heavy rain and a flash or two of lightning is expected across South IL and West KY. Rain will change to light snow/flurries later tonight.



Radar and lightning data - 7 PM this evening



Satellite Images - all images from weathertap
Satellite Animations: Click Here


Isentropic

30 Day Temp Departures
VERY cold temperatures are being forecast next week by the GFS. Here are some images.


Brutal cold being forecast by some models.
Late evening satellite images:
December 04, 2008
A cold night is in store for the region. Low temperatures will fall into the 20s. This comes after last nights "flash freeze". Temperatures fell from 50 degrees to below freezing in just a few hours. Area roads even had slick spots on them earlier this morning.
The next storm system will bring rain to our region on Tuesday into Wednesday. Gulf moisture will surge ahead of a developing low in Texas and accompanying this moisture will be warmer temperatures. This storm could become a major snow event for portions of the eastern United States.
There is a threat for snow across portions of Missouri and Illinois from this system. Unfortunately, it appears it will be too warm in West Kentucky - again. Not good for snow lovers.

GFS forecast
As far as temperatures for the upcoming week - it appears that cold air will surge back into the region after the storm passes. I wouldn't be surprised to see low temperatures dip into the teens, in our counties, as the low winds up the East Coast of the United States.
I do believe out counties will see a chance for snow with this pattern in the coming 7-14 day period. Several short waves should move through the area during this period.
On another note - for those who think it has been cold over the last few weeks! The following is from the WGN Weather Center Blog:
The coldest air to grip the Chicago area in more 9 months moves into a second day Friday. The average date on which Chicago's first official single-digit temperature has occurred over the past 138 years has been Dec. 14. Yet many suburban residents will step out into single-digit temps a second consecutive morning Friday, having experienced lows of 4 degrees in De Kalb, 5 degrees in Aurora and 6 degrees in South Elgin on Thursday. Despite sunshine, snow cover -- heaviest to the west -- will restrict warming Friday. Highs will be close to Thursday's peak reading of 22 degrees -- a January-level temperature which was 16 degrees below normal and the coldest daytime reading here since Feb. 20.

The chill comes at the end of a Nov. 8 through Dec. 4 period which has averaged 33.0 degrees -- this area's coldest in 12 years and a reading 4.8 degrees below the 138-year average.
ONLY FIVE SNOWIER STARTS IN PAST 25 YEARS IN CHICAGO
The 4.3 inches of snow on the books as Chicago's official seasonal tally has been topped only five times in the past 25 years. Weather history tells us 90 percent of the city's seasonal snow has yet to fall.
--Tom Skilling, Chief Meteorologist, WGN-TV/Chicago Tribune
December 07, 2008
A storm system will approach the region (West KY/South IL) on Monday night into Tuesday. Right now it appears the low pressure area will pass across South MO into IL and then into Indiana.
This track will place the Paducah forecast area in the warm sector of the storm. There will be plenty of moisture with this system and it appears that there will be a chance for moderate to occasionally heavy rain across our area. Right now I am forecasting 1/2-1" of precip. The NWS in Paducah is forecasting the same.
There could be a few rumbles of thunder, especially if the GFS verifies with its deeper solution for the main low. Either way, both the NAM and GFS indicate a risk for thunderstorms. Not expecting severe weather in our counties.
As the storm pulls away from our region we will see a return to colder temperatures on Wednesday into the weekend.

GFS surface track and GFS/NAM moisture flux maps


GFS Forecast is a stronger storm than the NAM
December 08, 2008
Awoke to thunderstorms this morning across West KY and South IL. Lightning and thunder rolled in a little after 7 AM. This was accompanied by strong winds of 30 mph and moderate rainfall.
As of 11:30 AM we have received 0.87" of rain. About what was expected, at this point.
Rain should continue through the afternoon and overnight hours. We should pick up another 0.25" or so here in West KY. Heavier amounts further east.

Radar - KPAH - storms moving into Paducah

Radar and Satellite images from this morning

Strong squall line at 11:30 - Little Rock, Arkansas Radar
Evening Satellite Images - tornado outbreak along the Gulf Coast.

Me waiting on snow here in West KY/South IL
EVENING UPDATE:
Rain continues across our region. We are starting to see new precipitation form in response to a low developing in Mississippi. Temperatures have fallen from the 50s into the 30s this evening. Some light frozen precipitation is possible across Southeast Missouri and South Illinois.
I have measured a total of 1.10" of rainfall since this morning.
The extended models are showing a major ice storm for portions of Missouri and Illinois next week. The potential for a major event is increasing. Still too far off for details.


GFS temperature spread for next week. A 100 degree temperature difference.
December 10, 2008
Weather Update.

THREAT:
Ice Storm

THREAT TIME FRAME:
Monday-Wednesday - December 15-17th.

THREAT AREA:
MO/IL/IN/KY

This is a very early assessment of a developing weather situation. This storm is in the long range forecast period - day 5-7. Confidence is low, because of the time frame. As the event draws closer I will have a better idea of where the rain/ice line will set up. I would advise all agencies to stay abreast of this developing winter storm situation, although it appears the highest impact will be north of our region, this could change.

At this time it appears that a significant ice storm is possible next Monday through Wednesday across Missouri and Illinois. It is questionable, at this time, as to whether this event will impact Kentucky.

Ice accumulations greater than 1/2" are possible with this system.

A powerful storm system will develop on Friday and Saturday across the Central United States. This storm will help usher in an arctic cold front from Canada. Where the cold front sets up will determine what part of the region will be placed in the bitter cold air. Right now models are bringing this front through Kentucky on Monday night. If true, then we would see rain changing to sleet and freezing rain across much of the state.

Warm moist air will push northward from the Gulf of Mexico on Sunday and Monday. This warm air will move up and over the cold shallow layer of air. This will cause freezing rain and sleet to develop north of the frontal system.

It is too early to determine whether or not we will experience a significant winter storm next week in Kentucky. Right now, indications are that a winter storm will occur in the Missouri and Ohio Valley and the main threat would be sleet and freezing rain.

I will update this forecast tomorrow and through the weekend.

Stay tuned to NOAA Weather Radio for the latest information on this developing winter storm.
If the GFS verifies then there should be a decent amount of moisture coming up and over the cold layer across Kansas, Missouri and into Illinois. With surface temperatures below freezing and temperatures warmer aloft this will likely spell sleet and freezing rain. Snow could be confined further north into Iowa.

GFS would be winter storm criteria for portions of the Kansas City, Springfield - MO, St Louis, and Central IL NWS Offices. 12z is even further south with the spread of the cold air so perhaps the Paducah, KY Office as well. This would be on Sunday night into Tuesday. BUFKIT shows 0.30-0.50" of rain falling before the ice begins.

Heaviest axis of ice on the GFS (as it stands now) would prob be in the Central Missouri region.

The 4 Panel RH Maps for 18z Monday: Moisture showing up at all levels.

4 Panel RH
GFS shows South IL and West KY going below freezing on Monday night with rain changing to sleet and freezing rain. Earlier as you go further north from Paducah, of course as the cold air slides southward.

INTERESTING to note is that there could actually be some thunderstorms (heavy?) on Sunday ahead of the cold front across Missouri. Certainly would make for a wild weather ride.

GFS moisture flux map for Sunday and 850 MB Wind Fields:



BUFKIT changes the rain to ice in St Louis around daybreak on Monday morning. Course this is just the soundings straight from the OP - so all of that would be defendant on the model accurately portraying the cold airs movement southward.

Large general area of lift along the sharp boundary is causing the overrunning ice event...

Lifting along the front
Just looping the GFS - it shows cold wave after cold wave over the Ohio Valley. It shows a couple of 1-2 day warm ups. So, perhaps all hope is not lost on the possibility for a continued period of cold weather vs warm. The ensembles keep the cold mainly bottled up out west. It keeps the battle ground near MO/IL, though. With that type of set-up you can surely expect some freezing rain events. Defin worth watching.

http://www.meteo.psu.edu/~gadomski/ewallmref.html

Ensembles show several waves and or storm systems being spit out of the southwest. Thus keeping the chances for sleet/ice/snow/rain across the region.

Even with the potential cold waves in the Central United States one has to recognize that the pattern has shifted. The deep trough in the west has not been there of late. See the map below for how much above normal the temperatures have been lately out west:

Just because we have a trough in the west, though, doesn't mean a suicide watch is needed for the Midwest of Ohio Valley. IMO just the opposite as these sharp temperature gradient situations are great for overrunning events.

Last Seven Days:
CURRENT MONTH TO DATE:
Now compare that to the latest forecast for the upcoming 7-10 days:

7-10 Day Forecast
Even though the pattern may be shifting that doesn't mean we can't some exciting weather across the Central United States.

I am going to keep some hope alive for the idea of several winter weather events over the period. I won't get overly excited, though, because my faith in the models lately have generally been on the low side. They don't seem to be able to grasp how things will transpire in 2 or 3 days let alone six or seven days.

-----

On the ice vs snow. After last years terrible ice storms I would imagine a few posters would rather never see ice again. I think ice is one of the more photogenic weather events. It can certainly cause headaches though.

I think the potential is there for several potential storms over the next 7-14 day period. Enough of a risk to at least keep us coming back to watch the progress of the events.
December 12, 2008
Not much has changed over the last few days. I expect a significant ice event on Monday into Tuesday morning. I am forecasting 0.25"-0.40" of ice across my immediate county area.
Another winter storm will approach our counties on Tuesday into Wednesday. Temperature profiles are anything but certain for this second event. Right now we are on the rain/snow line.
The 18z NAM shows the sharp cold front approaching Missouri on Sunday afternoon.
On another note...my new rain and snow gauge arrived today for the farm. I always dreamed of having all these weather instruments when I was growing up!

Daisy is going to help me put this thing together
December 14, 2008
Incredible cold front approaching the region. Temperatures at 10 PM are in the sixties across West KY. Meanwhile, it is 12 degrees in Kansas City. Some counties have had 40-50 degree temperature drops.
The front has just passed through St Louis, Missouri. It looks like it will arrive in Paducah after 4 AM. I am expecting rain ahead of the front and then light icing behind the front. The NWS has issued a winter storm warning for tomorrow morning through tomorrow night.
A second storm will develop Monday night. This will bring more snow and ice to my counties.

National Weather Map
December 15, 2008
Winter storm on-going across the region. Temperatures fell 40 degrees this morning behind the cold front. We were at 63 degrees at 3 AM. We were in the 20s by late morning. Incredible temperature falls for this area. Impressive.
Sleet and freezing rain developed this afternoon and by 5 PM the road was white.


My weather stats for the day

5 PM Temperatures
December 16, 2008
Freezing fog and drizzle has moved into the area this afternoon. A winter weather advisory has been issued for most of our counties (West KY/South IL).
We are experiencing light freezing drizzle and thick fog here in Paducah.
It looks like warmer air will move in on Thursday into Saturday, followed by more cold weather. Go figure. The long cold spell continues. It has been an amazing run.
The area may experience a chance for thunderstorms on Thursday into Friday. A deep low pressure area will move through Central Illinois. A cold front will drag through our area. Warm air will pull northward.
Temperatures will then fall again on Sunday, behind the second storm.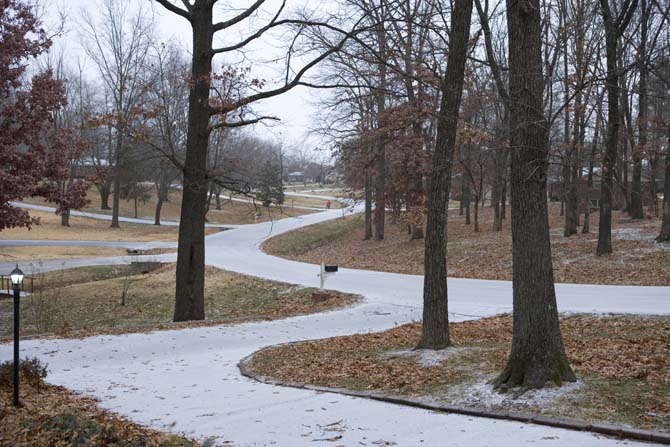 Lone Oak, Kentucky - yesterday evening. Roads covered in sleet.
December 18, 2008
MOVING TO WORD PRESS. For those who wanted to subscribe to the blog. I am making the move. The blog will now move to this location. I am still working out the appearance, but I will posting there for now on. I will link this old blog from the new one.
Home | About | News | Upcoming Events| Photo Gallery | Video | Links | Contact
All Photos are copyrighted by Beau Dodson (unless otherwise clearly stated) and are used on this site with his permission. Any use other than authorized by them is against the law. If you wish to contact him regarding use of these photos, please e-mail me and I will forward it.