October 01, 2007
Welcome to October! It looks like we are going to have a stormy and warm start across much of the Central United States. A strong storm system will push into the Central Plains on Tuesday bringing another round of severe weather. Additionally there could be a severe weather threat looming for the coming weekend across the same areas. Fall has definitely arrived and with it comes the "second" severe weather season. Most people in my region know all too well what this means. So stay tuned.

The National Weather Service is forecasting warm temperatures next week across much of the Ohio Valley. Tropical like conditions with dew points on the rise once again. Perhaps cooler weather will arrive after this round of warmer temperatures. There are indications on the models that a cut-off low may develop across the Ohio Valley on day 7-10. If true then this would bring unsettled weather to our region - and cooler temperatures.





Temperature Departure Forecast
IMPACT OF ARCTIC HEAT WAVE STUNS CLIMATE CHANGE RESEARCHERS

Unprecedented warm temperatures in the High Arctic this past summer were so extreme that researchers with a Queen's University-led climate change project have begun revising their forecasts.
"Everything has changed dramatically in the watershed we observed," reports Geography professor Scott Lamoureux, the leader of an International Polar Year project announced yesterday in Nunavut by Indian and Northern Affairs Minister Chuck Strahl. "It's something we'd envisioned for the future – but to see it happening now is quite remarkable."
From their camp on Melville Island last July, where they recorded air temperatures over 20ºC (in an area with July temperatures that average 5ºC), the team watched in amazement as water from melting permafrost a meter below ground lubricated the topsoil, causing it to slide down slopes, clearing everything in its path and thrusting up ridges at the valley bottom "that piled up like a rug," says Dr. Lamoureux, an expert in hydro-climatic variability and landscape processes. "The landscape was being torn to pieces, literally before our eyes. A major river was dammed by a slide along a 200-metre length of the channel. River flow will be changed for years, if not decades to come."
You can read more on this topic here.
October 02, 2007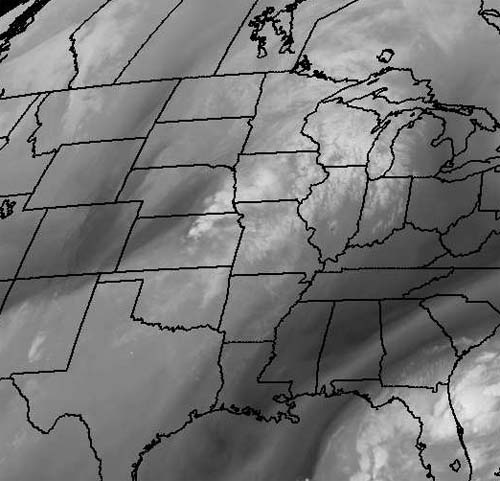 Morning Water Vapor
A stormy day ahead across portions of the Missouri Valley and Plains. The Storm Prediction Center has outlined a large slight risk area that extends from Iowa and Illinois back down into Oklahoma. Isolated tornadoes will be possible later today especially across Missouri as a strong to severe squall line races out ahead of the frontal boundary. Expect a number of watches and warnings to be issued.
A large storm system will likely take shape this weekend across much of the same region. An outbreak of severe thunderstorms and tornadoes will be possible Friday into Sunday.



11 a.m. Storms Evening Storms
WeatherTap Image
TORNADO OUTBREAK...
Just a quick blog update: A tornado outbreak is ongoing this evening across portions of Missouri, Illinois, and Iowa. Numerous tornadoes have been reported with damage and injuries. The Storm Prediction Center has issued a tornado watch for portions of Missouri and Illinois. The St Louis, National Weather Service Office has issued numerous tornado warnings.
October 03, 2007
A calmer day is in store for the Central United States after yesterdays severe weather outbreak. Numerous tornadoes were reported across Iowa, Missouri, and Illinois. Extensive damage is reported in several communities along with several injuries. The NWS will be conducting storm surveys later today. I will post more information as it comes out. Most likely the tornadoes were in the F0 to F2 range.
EasternUSwx Thread on the outbreak...images included.


October 2nd Storm Reports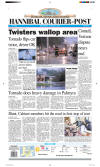 Newspaper Headlines
Meanwhile, extremely warm temperatures are expected over most of the Eastern half of the United States during the next 5 days. Here are some temperature departure charts that show the extreme warmth.
October 06, 2007
Was a long drive home but I made it back from Canada. No snow while I was up there. It is a bit early though. Perhaps next month! Still waiting on that first snow chase.
Extremely warm temperatures blanket the Eastern half of the United States. We are experiencing upper 80s across this region. Dew points have been in the mid to upper 60s. Is this summer or fall? Record warmth will continue today and on Sunday. Cooler temperatures should move into the Ohio Valley next week. I think we will all be thankful for that!
Wright-Weather Temperature Forecast Departures Tell The Story...

FORECAST DEPARTURES FOR THE UPCOMING WEEK

NWS FORECAST 6-10 Day
Severe thunderstorms are likely over the next few days across the Central United States as a cold front and storm system approaches the region. The Storm Prediction Center is forecasting severe thunderstorms today across portions of Minnesota, North and South Dakota, and Nebraska. Some tornadoes are possible. Tomorrow strong to isolated severe thunderstorms are likely from Wisconsin back down into Kansas and Oklahoma.

OCTOBER 2 TORNADO OUTBREAK - UPDATE
The St Louis National Weather Service Office has updated the information on the October 2nd tornado outbreak. Several low-topped supercells produced 5 tornadoes and straight line wind damage from central and northeast Missouri to west central Illinois during the evening of October 2nd. This activity all occurred ahead of a cold front that moved across the region that evening and overnight. Below are damage maps, summaries of damage surveys conducted by the National Weather Service, damage photos, and a list of the preliminary damage reports.
EXCELLENT job by the National Weather Service Office in St Louis on issuing timely warnings. They certainly helped to save lives during this tornado outbreak. Good job.

All Counties Map Monroe County Map

Large outbuilding completely destroyed by EF(0) Tornado in Montgomery County.

EF(1) Tornado damage near the intersection of Highways CC and 15 in Monroe County.

EF(2) Tornado damage on Highway PP in Monroe County. Single wide mobile home completely destroyed.

Tornado damage just south of Palmyra, Missouri, near Business 61 and Highway 61.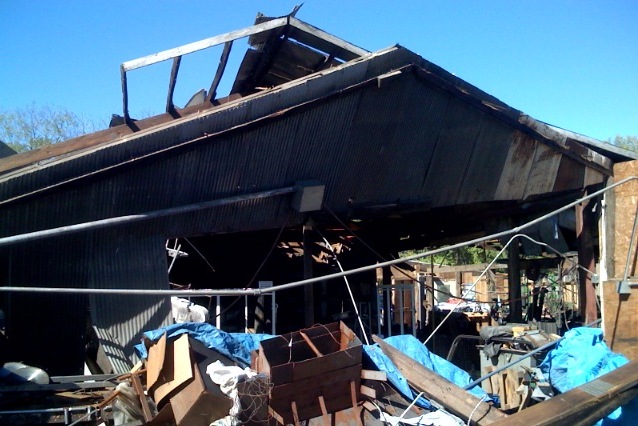 Additional tornado damage in same location, south of Palmyra, Missouri.
STATE OF KENTUCKY DECLARED A FEDERAL DISASTER AREA
Drought Triggers Disaster Declaration

(AP) - All of Kentucky has been declared a natural disaster area by the U.S. Department of Agriculture because of extreme drought conditions.

The designation by makes farmers in the state's $4-billion-a-year industry eligible for assistance, including low-interest emergency loans.

Drought conditions, along with cold temperatures over Easter weekend, devastated many agriculture products, including an estimated 50 percent loss on Kentucky's forage crops and decreased yields for corn and soybeans. The drought also has left cattle producers struggling to secure pastures and hay for their herds.
Most droughts last 2-4 years in the State of Kentucky. The image below shows the history of wet and dry spells across the western portion of Kentucky.


Kentucky Drought History
October 08, 2007
A strong cold front is racing towards the Ohio Valley. Much cooler air will rush in behind the frontal system. Instead of record high temperatures we will find ourselves in a comfortable air mass with high temperatures in the 70s and low temperatures in the 40s. Open those windows!
Showers and isolated severe thunderstorms will break out ahead of the front across portions of Arkansas, Missouri, and Illinois. These showers and storms will sweep eastward through the afternoon and evening hours. Locally heavy rain and gusty winds will be possible with the stronger storms.


3 pm Paducah Radar and surface map WeatherTap





Current Temperatures and 24 Hour Temperature Change
Meanwhile, a POWERFUL low pressure system is spinning off the Northwest Coast of the United States. Models BOMB this low pressure over the next 24 hours. High winds and heavy rain will move ashore with this system.
October 09, 2007
Monster pacific storm has wrapped itself up this morning into what would be a category 3 hurricane as far as the pressure goes. The Seattle, National Weather Service Office, estimates that the pressure bottomed out somewhere around 960 millibars. Just amazing. Satellite images show an extremely impressive presentation.

Monster Pacific Storm System!
The storm should continue to move east/northeast through this evening. High winds and heavy rain will likely brush Washington and Oregon. The most intense winds will remain to the north. Thankfully.
NOAA'S WINTER OUTLOOK HAS BEEN RELEASED...

Temperatures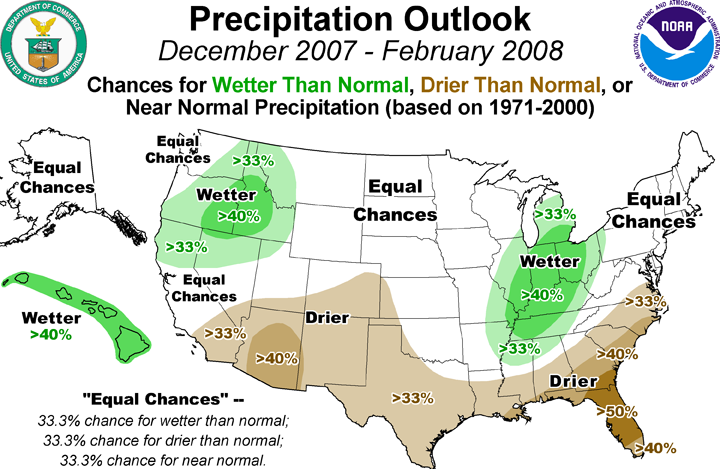 Precipitation
This is a typical La Nina Winter Outlook. Wet in the Central United States and warm across much of the country. We shall see if this holds true. You can read the full outlook here.
October 11, 2007
Slow weather days! Much cooler temperatures have filtered into the Ohio Valley. Low temperatures across the Paducah Region have been in the 40s at night and in the 70s during the daytime. Absolutely beautiful weather. It actually feels like fall. About time!
The weather could turn stormy next week. Severe weather is a possibility across portions of the Central United States. Stay tuned.
October 13, 2007
There is going to be the potential for a strong storm system next weekend to sweep through the Missouri and Ohio Valleys. Models are still a bit iffy on how this will transpire. At this time, however, it appears that severe thunderstorms could move through portions of the above mentioned areas on Friday through Sunday. Long way off still...so still some time watch this unfold. Stay tuned. A few weather maps from this morning:

Long range GFS showing a 984 mb low in Minnesota. The EC shows this same low
across Northern Illinois. Some disagreement on the exact track. Both models do show
a significant storm. The UKMET also shows a deep low - below 980 mb.



Wright-Weather Maps - GFS Parameters

Dew Points

Coming up this week in the Paducah Sun!!!! An article about my passion for weather!
Should be interesting to see what they write!

Evening Squall Line...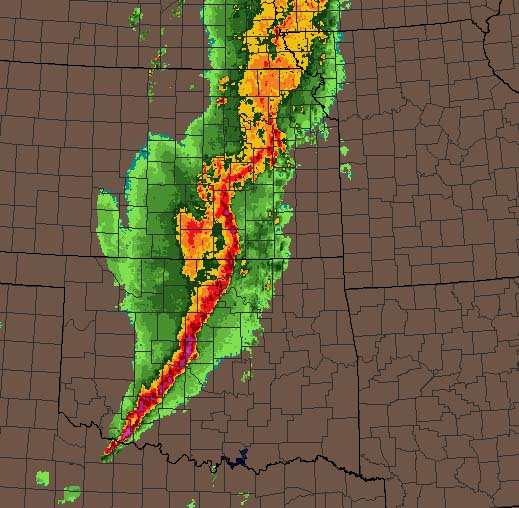 Classic
Turn the page for more weather
Home | About | News | Upcoming Events| Photo Gallery | Video | Links | Contact
All Photos are copyrighted by Beau Dodson (unless otherwise clearly stated) and are used on this site with his permission. Any use other than authorized by them is against the law. If you wish to contact him regarding use of these photos, please e-mail me and I will forward it.